This Product Packaging Is Crystal Clear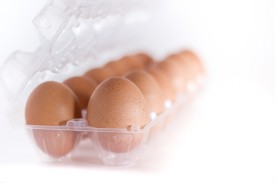 You've got a great product. You know it. It's time to let your consumers know it as well. Clear packaging allows consumers to see what they're buying and therefore makes them more likely to buy. In fact, it can influence a buying decision even more than your brand label. But clear packaging does pose a number of challenges.
What you see is what you get
The biggest trend in packaging is transparency. Shoppers want to see what they're buying. According to a report by market intelligence agency Mintel, more than 50% of shoppers agree that seeing a product through the packaging is important. They want information about the ingredients, where they come from, and the manufacturing processes.
Transparent packaging allows consumers to see the quality of a product, which further influences their buying decisions. It also lets the contents serve as the package design, especially if the product is pretty or appetizing. Clear packaging builds trust in the brand and even reduces production costs because it uses fewer colors and materials.
Many options
There a lot of options that allow you to take advantage of transparent packaging, and deciding on which one is right for your product depends on the message you want to send and the nature of your product. Plastic pouches for convenient cheese products, plastic trays that show off leafy greens, clear films that package energy bars, glass salt grinders that have a function beyond their packaging, and clear containers for dairy desserts that show off chunks of chocolate or fruity swirls are themselves marketing messages. Glass bottles might convey quality and freshness over plastic, but they are heavier and costlier to ship. Plastic can corrode or be damaged during shipping. A packaging world with so many options makes it easier to present your product in the best light — or not.
It's not ALL good
Although you may want to take advantage of the transparency trend, it might not be a good fit for your product. Clear packaging isn't always the best solution. For example, a potato chip producer likely won't want shoppers to see the broken chips at the bottom of the bag, and a food manufacturer may not want its contents visible after having been damaged during shipping. Transparent packages also let in light, which can degrade food products and cause them to lose their freshness. It's important to weigh the pros and cons of transparency.
Is your product right for transparent packaging? We'll help you decide. Contact the CTI experts to help you sort through your options.
[cta]It's painless: Our package analysis is no-cost, no-obligation. Get the information and options you need to make a positive change for your product. Contact the experts at CTI online, by email, or by phone at 847-968-4855.[/cta]