Subscription Services Spark Success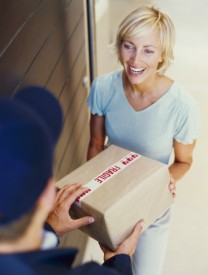 You've probably seen television ads that show someone opening a box of goodies that came in the mail and realized from the ad that it's a surprise package of goodies that comes every month. How cool is that?! Well, the coolest part about it is that most of these goodies are samples that you get to try out for a small monthly fee. Subscription services are the new big thing. Have you climbed on board yet?
Who's cashing in?
Birchbox, the pioneer in subscription services, relies on the idea that people want quality cosmetics — without having to make a trip to their favorite makeup store or keep up with the latest trends. Into fashion jewelry? Rocksbox could bring a new piece of bling to your dresser top. And your furry friend won't be left out either. BarkBox will deliver a monthly treat that will make your pup go wild. Everything from snack bars to socks to fresh foods or prepared meals — there's a box for that.
What's so great about boxes?
Box services are a booming business, but it's not just the company delivering the products that reaps the benefits. The companies that place their products in these boxes may be the biggest beneficiaries. Subscription services offer manufacturers a way to let a targeted audience experience a product they might not otherwise come in contact with and then give the receiver a discounted offer to purchase. And they don't have to compete with the clutter of retail shelves.
Manufacturers taking advantage of subscription services are banking on the try-then-buy model, and if the proliferation of this model is any indication, it seems to be working. Startup companies are especially benefitting from subscription services. Today's consumers are savvy and are reluctant to spend on products they don't know anything about. For a relatively small investment, these new companies can get their products directly into the hands of consumers.
Does the box matter?
When people subscribe to a package service, they expect a personal experience. Your package needs to convey the message of what's inside and create excitement and anticipation for the person opening it. A good first experience with a product is more likely to translate into a sale.
You also need to make your packaging cost-effective. If a packaging feature doesn't serve a distinct purpose, think twice about including it. Make your packaging appealing to your recipients and reflect the message you want to get across. For example, if your target consumer is a millennial, make the packaging eco-friendly. If the consumer is a senior, make it easy to open. If the contents are luxury items, make your package convey that message.
CTI's experts can help you design a package that inspires anticipation, follows through with the experience, and converts buyers.
[cta]It's time to maximize your exposure through your packaging. Get in touch with CTI today. Contact us online, by email, or by phone at 847-968-4855.[/cta]