The Long and Winding Road Leads from Producer to Consumer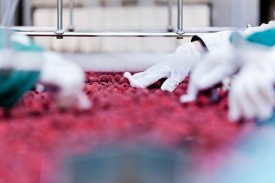 The grocery and eating habits of families have been changing drastically, leading to differing expectations of shelf-life, quality, and safety. Recent outbreaks of foodborne illnesses have prompted industry-wide innovations for improved packaging technologies. The ability to provide low-cost, innovative protections has become a top priority of the food and packaging industries.
Smarter packaging
Food packaging not only plays an essential role in ensuring the quality, freshness, and safety of our food supply, it also provides important information for marketers and consumers about the food contents, preparation, and safety. To meet increasing consumer demands for information about nutrients, possible allergens, expiration dates, and other safety data, more and more food processors are turning to "smart packaging" technologies.
Smart packaging uses the latest technologies to make food packaging more intelligent and interactive.
Active packaging lets food brands use bar and quick response (QR) codes on packing so that consumers can use their smart devices to read additional information about food safety, warnings, ingredients, preservatives, preparation, and even recipes.
Interactive packaging provides extra food protection by using packaging materials that can interact with the environment. For example, product packaging could change color when exposed to temperature, moisture, or contaminants, or when it has been tampered with.
Traceable packaging provides the ability to track and rectify any problems along every aspect of the food processing chain.
Traceability enhances accountability
Traceability technologies in food packaging labels have been introduced to quickly address and remedy an issue. Traceability provides transparency to producers and consumers — allowing them to track and understand where their product has come from, where it's going, and how long it will last.
Tracing technologies let companies use radio-frequency identification, near-field communication, Bluetooth, and other sensing technologies on their packaging to track their products from source to store and everywhere in between. This provides the ability to trace the source of any problem and rectify it quickly.
The Food Safety Modernization Act, enacted in 2011, established new rules that require food suppliers to identify and account for hazards, implement controls to prevent contamination, and monitor and record those controls. The Act also lets the Food and Drug Administration (FDA) recall, suspend production, and audit food service providers if they don't comply. The ability to trace food supply chains, combined with these new regulations, means greater accountability for food producers and greater food safety for consumers.
A full-service, end-to-end packaging company can help you take advantage of available technologies to help you stay current with state-of-the-art packaging trends. Use your packaging to provide the transparency your customers want and deliver the quality product that they deserve.
[cta]It's time to take control of your packaging process. Get in touch with CTI today. Contact us online, by email, or by phone at 847-968-4855.[/cta]