Quick, Easy Packaging Designed with On-the-Go Consumers in Mind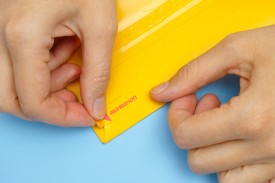 So many of our consumers lead busy lives, and the on-the-go lifestyle that has emerged in recent years is only expected to grow. Consumers with such busy lifestyles don't want to waste valuable time opening products and fiddling with inconvenient packaging.
Plus, mobile lifestyles typically result in an increase in consumption — from disposable water bottles to mini snack bags; from pill packs to travel-size toiletries. This trend is taking the packaging industry by storm, shifting the way products are delivered across industries.
Food & beverage — Quick-peel foil lids add convenience and performance to metal cans, allowing consumers to easily peel back a lid, rather than working with a can opener. According to manufacturer research, consumers are willing to pay more for the added convenience.
Toiletries & beauty — Think compact, combination, and clean. For example, VariBlend recently announced a 2-in-1 dispenser for skincare products. The dispenser sits atop a two-compartment bottle and locks to ensure the packaging will travel without leaking. Different formula strengths can be chosen by turning the dial on the dispenser, allowing the consumer to customize use of the product and adding travel convenience for those that want to bring multiple products in a small bag.
Cleaning supplies — Dish and laundry detergent is now packaged in convenient "pods" for a perfectly pre-measured amount of product each time and an easier, faster way for consumers to clean. This option also eliminates excess packaging, as many of the pods dissolve right into the water — nothing to dispose of but the original container!

Consumers don't want to spend extra time thinking about their packaging, learning how to open it, and figuring out where to get rid of it. CTI can help you determine an appropriate solution for your products' packaging, making it easier for consumers to consume and for you to produce.
[cta]It's painless: Our package analysis is no-cost, no-obligation. Get the information and options you need to make a positive change for your product. Contact the experts at CTI online, by email, or by phone at 847-968-4855.[/cta]