Inspire Brand Loyalty with Personalized Packaging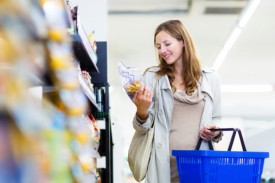 Brand loyalty is hard to come by in this age: Customers are demanding more from companies in return for their business. But one unique spin on product packaging can give you the edge you need to bring in more buyers.
Today's buyers, especially younger ones, have preferences that change on a whim. An assembly-line approach no longer works as shoppers demand more individualization in their purchases. More and more companies are embracing the trend of product personalization and letting consumers play an active role in creating their own products to suit their individual personalities.
Getting personal
A 2013 Bain survey of 1000 online shoppers found that 25% to 30% would like to be able to customize a product to their desires. It also found that those who customize a product are more likely to be engaged with the brand.
One great example of product personalization is Coca-Cola's "Share a Coke" campaign, where individual cans and bottles of cola feature common names instead of the usual Coke logo. The company's website also allows consumers to order personalized bottles of Coke. Other examples include Reebok, which allows customers to add specific features to their shoes; and M&M, which lets people personalize messages on their candies.
Although such an extensive program might not be possible for smaller companies, there are still opportunities for personalization. Products can be individualized by packaging and printing in small batches and by using flexible printing and multi-purpose production lines.
Beverage producers especially are taking advantage of customization options. One important way they are doing so is by using shrink sleeve labeling. Shrink sleeve labels are growing in popularity because they offer companies more space for their marketing message and a high level of customizability.
Doing it right
If you're thinking about adding a personal touch to your product offering, here are a few things to consider.
Is your goal to make a profit or increase brand engagement?
Figure out how much personalization you can cost-effectively offer. Do you allow customers to make a few minor adjustments or let them build a product from square one?
Sometimes offering too much customization can be overwhelming to a buyer. It's often best to start with a base or template that you can add to or simply fill in.
Determine a way for happy consumers to share their personalized product. Social media is especially useful for letting customers spread the word about your brand and expand your marketing efforts.
If your product would be a good candidate for personalization, you should jump on it. Consumers are eager for products unique to them, and it will be a great marketing boost for your brand. Speak with a packaging expert who can evaluate your current production process and see if this trend is right for you.
[cta]It's painless: Our package analysis is no-cost, no-obligation. Get the information and options you need to make a positive change for your product. Contact the experts at CTI online, by email, or by phone at 847-968-4855.[/cta]