In Natural Products, Packaging IS Your Marketing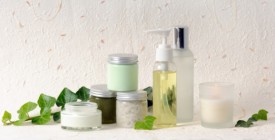 For small to midsized businesses, competing against bigger, higher-spending companies can be daunting. This is especially true for businesses in the natural products sector. With the clean labeling trend in full swing, giants such as Kraft and Nestle are marketing more of their food and beverage items in the 'real food' category.
Competing in the larger world
So how do smaller companies compete in this environment? It all starts with great branding and package design. The key is to create competitive natural products packaging that has great marketing value. After all, packaging is the first thing that draws a consumer in and creates an emotional response.
Consider your use of materials. As much as possible, use materials that are consistent with the values of natural products customers. Emphasize sustainability by using recycled, biodegradable packaging materials, less wasted space, and soy inks for package printing.
Use great imagery and graphics. That doesn't mean you have to play down to your customers. You don't need to appear downhome or folksy, or include rainbows and happy farm animals. Use color and design that differentiates the product from others on the shelf and speaks to the consumer. Or let the product speak for itself by using a clear container or a window.
Consumers want convenience. Consider your customers' busy lifestyle. Single-serve and ready-to-eat-or-drink packaging cater to on-the-go consumption and may be more appealing. Move away from hard-to-open, hard-to-seal packaging (e.g., the cereal box). Compartmentalize your package if ingredients won't store well together, and let the user mix them at prep time.
Use packaging to share brand values. The package is a canvas for your message. Don't hide important benefits, ingredients, or preparation tips on the back — bring them to the front. Busy consumers spend very little time perusing the store shelves, so make the most important aspects of the brand prominent.
Don't let food spoil. To protect preservative-free items from spoilage, you'll need to select packaging that protects against product degradation.
Sometimes there has to be a little give and take to balance spoilage protection, sustainable packaging, and convenience. However, there are products that put up the necessary barriers against spoilage and meet the desires of eco-conscious and busy consumers. For example, glass or corn-based plastic can be formed into containers that prevent food degradation and meet the needs for consumers looking for convenience.
Don't let the big brands intimidate you. You can compete in the natural products sector if you have the right tools. Your packaging is one of the first ways you market to customers — don't miss out on that chance!
Let Combined Technologies, Inc. help you design a package that hits the mark and will get your product from the retail shelf into your customers' homes.
[cta]Is your packaging supporting your product as it should? Let CTI help you compete in your space. Contact us online, by email, or by phone at 847-968-4855.[/cta]