Does Your Packaging Provider Adhere to Food Safety Guidelines?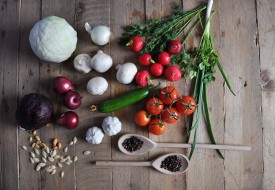 When you're selecting a packaging provider for your food products, you have questions: Can the provider handle my product? Can it handle my volume? Can it provide the type of packaging I need? Can it offer additional services such as package design? Can the provider ship my product retail ready?
But most important: Does my packaging provider fully comply with food safety regulations and best practices?
CTI and food safety go hand-in-hand
CTI makes every effort to keep up to date with food safety practices and regulations. In fact, we recently passed our annual Food Safety Audit for Primary Packaging with flying colors!
The comprehensive audit is conducted by AIB International, an organization that helps companies elevate their food safety and production process capabilities by developing and delivering independent inspections (both announced and unannounced), audits, and learning. AIB conducts a complete inspection of the facility, inside and out. The organization also reviews all documents related to chemicals on site, recalls, and all food safety related topics; and performs QC checks for all processes, such as sanitation and pest control.
Inspections are annual, but food-safety best practices are continuous. CTI maintains a high standard of food safety through:
Ongoing training for multiple employees
Monthly meetings to update information for full staff
Daily implementation of best practices across all lines
As an end-to-end provider for all packaging needs, CTI strives to put safety first in all we do, employing special vigilance to keep food safe, sanitary, and in perfect condition for your end customers.
It's not just what we do … but how we do it!
[cta]Package your product the right way. Contact your CTI representative today to find out how we can create a custom fulfillment program for your product. Reach us online, by email, or by phone at 847-968-4855.[/cta]