Why Offering Less May Increase Your Sales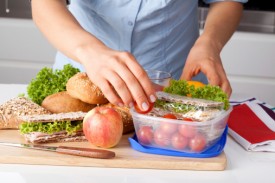 Consumers want a variety of food, beverage, and health product sizes based on their families and needs. But changing demographics are suddenly making the expression "less is more" very true. What does that mean for the packaging industry?
Changing lifestyles, changing packages
The average household has changed a great deal over the last 40 years. A great number of millennials in their 20s and 30s are choosing to remain single, postponing marriage and starting families. There is also an abundance of single parents and divorcees who decide not to remarry. In fact, the number of single-person households rose from 17% to 27% between 1970 and 2012.
That means the once-popular family pack is no longer meeting many consumers' needs — they prefer smaller sizes and quantities that are less expensive, easier to store, and less likely to be wasted. And these days, people are busier than ever and always on the go. They want packaged snacks and meals that are easy to grab and eat on the road.
From security to sustainability, smaller is better
Airline restrictions are playing a role in the shrinking size of health and beauty products. Passengers who aren't checking bags undergo strict TSA security standards for their liquid products, and want to be able to buy sizes that meet the 3.4 oz restriction. Even medicines are taking the "smaller is better" approach. With products like Emergen-C, which come in single-serve packets, people have the convenience of slipping a few into a pocket or bag to take with them wherever they go.
Smaller-sized packages also reduce package waste. As Americans continue to become more environmentally conscious, making an effort to offer a sustainable package will go a long way for increasing brand loyalty.
You CAN please everyone!
From a family with six children to a college student living alone, the needs of different households must be met. Designing your product to come in smaller packages with greater portability and convenience can appeal to a wide demographic.
Travelers — Single-serve packages should be small enough to fit in a pocket, backpack or purse. They should also be made of durable material that can withstand being jostled around,
Dieters — Consumers who want to limit their calorie intake will most likely buy a pre-portioned food product.
Parents — Smaller packaging can appeal to parents for being kid friendly. Snacks and foods that come in properly sized, "no mess" containers save time and trouble. Smaller, individually wrapped packs also keep the contents fresher.
Should you reduce the size of your product and package? Consult with packaging experts to determine if this is the right move for you.
[cta]It's painless: Our package analysis is no-cost, no-obligation. Get the information and options you need to make a positive change for your product. Contact the experts at CTI online, by email, or by phone at 847-968-4855.[/cta]