Does Your Product Have Too Much Slack-Fill?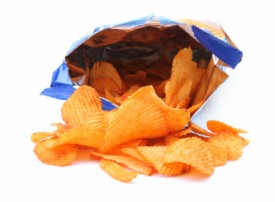 Have you ever opened a food package and been disappointed to see more air than product? From vitamins to deodorant sticks to bags of chips, having a poor ratio of product to air space can leave consumers with a bad taste.
Slack fill, also known as nonfunctional or empty space, has been a source of consumer frustration for a long time. The practice is sometimes necessary: Many brands use it to keep products from breaking, to discourage theft, and to allow packaging to serve another purpose (as a dispenser or tray, for example). But when companies stray away from these guidelines, they wander into grey area.
Fraudulent or simply frustrating
Although slack fill is not illegal in itself (arguably, consumers can look at weight or quantity in the packaging information and know what to expect), the FDA does prohibit misleading containers. It dictates that food products should be filled to an adequate level or the package size should decrease.
Why might this be a concern for your business? Several companies, including Unilever and P&G, have recently come under fire for non-functional slack fill and are facing legal consequences. Both companies are accused of using packaging that falsely depicts the size of a deodorant stick as larger than it actually is. And while California has been the leading state for enforcing slack fill regulation, other states may soon follow suit.
Is your package design on shaky ground?
If you are worried that your product packaging could come under scrutiny for being too large for its contents, here are some guidelines. Your product might have too much slack fill if:
The package is filled to substantially less than capacity
The extra space is not required for the safety of the product
The slack fill is not used to accommodate tamper-resistant closures
The extra space is not needed to accommodate proper labeling
There is overuse of false sidewalls or false bottoms
For suggestions on how to stay FDA compliant and avoid unwanted legal repercussions, discuss your package design with a CTI representative to ensure your slack fill is at an acceptable level.
[cta]Do you have too much slack fill in your product? Talk to CTI. We can help you make sure that your product is fully FDA compliant. Contact us online, by email, or by phone at 847-968-4855.[/cta]