Dimensional Weight Pricing Means Pack It Small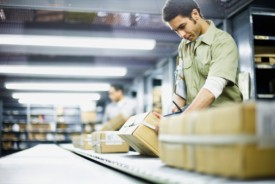 Consumers are increasingly turning to the Internet to make their purchases. And these purchases are no longer just hard to find products or expensive items. Small, everyday goods, such as a tube of lipstick or a box of paper towels, are being shipped to consumers as well. While the practice is convenient for busy consumers, these small or low-weight goods are still taking up valuable cargo space at very little expense — while the costs of drivers and fuel remain the same.
Now, FedEx and UPS are calculating the cost of shipping differently, measuring dimensional weight. The new method calculates the shipping price using the volume of a package (length by width by height divided by 166) rather than just the weight.
Dimensional weight pricing motivates shippers to reduce package size and excess packaging materials, like multiple cardboard boxes or bubble wrap filler. For retailers, this means the best shipping price requires the item to be in the smallest possible package. Shippers hope that this change in pricing will result in packaging that fits the item as precisely as possible, thus allowing them to fit more into each cargo load.
If your current package design has a lot of unnecessary air space, a redesign might be the most cost effective way to cut costs. If you're not sure where to start, think about these questions:
Can your product take on a new, innovative form? For example, does it need to ship in a box, or can it be repackaged in a space-conscious re-sealable bag?
If the size absolutely cannot change, can you substitute with a cheaper packaging material?
Could your product be properly protected in a thinner package during transport, such as thermoforming package?
With these shipping changes already upon us, the time to rethink your product packaging is now. Save space — and save money — by working with an expert who can meet your packaging needs.
[cta]Package your product the right way. Contact your CTI representative today to find out how we can create a custom fulfillment program for your product. Reach us online, by email, or by phone at 847-968-4855.[/cta]