What Will It Cost to Redesign My Packaging?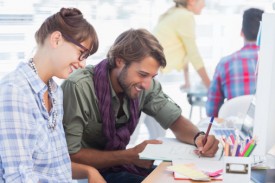 Redesigning your packaging can be a creative, exciting process — and a competitive one. But because so many factors impact the cost of a redesign, it can be difficult to estimate the true price of that slick new packaging you envision.
When it comes to package design, there isn't any one-size-fits-all solution. The most important consideration is the product itself. Is it perishable? Susceptible to moisture? Fragile? Any one of these characteristics can impact the requirements of a package redesign.
Three cost factors to consider
There are three major cost factors you should consider when exploring a package redesign:
Design costs — Even if you know what you want your new package to look like, a package design partner is an investment you can't afford to skimp on. Package designers can help ensure that the packaging you envision will enhance sales and meet shelving standards. They're also knowledgeable of federal regulations and will keep your redesigned packaging compliant with these laws — sparing you from serious financial and legal difficulties. An experienced package design partner can help you circumvent these pitfalls while keeping your goals and budget in mind.
Materials costs — There is a staggering number of options when it comes to packaging materials. Some lower-cost options such as paperboard or corrugated cardboard may not be sturdy enough to protect your product during shipping, while thermoform plastic clamshell packaging could be way beyond what your product requires. Finding just the right materials to protect and showcase your product is key to keeping your materials cost in line with your budget.
Production costs — Your production costs include the actual production and filling of the packaging as well as labeling or printing. Production is a stage in which unusual package shapes and sizes could increase cost. If a package is difficult to fill with standard equipment, or requires special handling during production, it could inflate your production costs significantly.
An often overlooked redesign expense is changes to the cost of product distribution. Your redesigned packaging may have differences in weight, shipping method, or quantity of packages per pallet. All of these distribution factors can impact the total cost of your packaging redesign project.
Getting cost estimates right
With so many different variables involved in a package redesign, it is critical to nail down as many of the details possible up front. Take advantage of services like CTI's free Product Packaging Evaluation to help you determine any special characteristics that could impact your packaging costs, and for ideas that fit your product and budget. Redesigning your product's packaging isn't vanity; it is a serious undertaking with a long list of considerations involved. But when done well, a package redesign is a competitive move that can attract new buyers to your product and reinforce your brand with existing consumers.
[cta]Have your retailers increased their security requirements? Talk to CTI. We can help you design the most cost-effective theft-deterrent package for your needs. Contact us online, by email, or by phone at 847-968-4855.[/cta]