The Newest Packaging Trend? Clean Labeling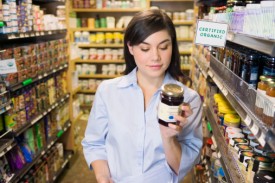 You have probably heard of the "clean eating" trend, a quickly growing change in the way consumers view and choose foods. Did you know there is a corresponding change happening in the way foods are packaged and labeled? Meet clean labeling, a practice that food producers and packagers are using to identify their products as a clean, healthy choice. But with no current legal regulation on what constitutes clean labeling, many companies and consumers have been left scratching their heads on what the label actually means.
What is clean labeling?
A clean label generally refers to a packaged food or beverage that is minimally processed and is free of artificial (and potentially harmful) food additives such as artificial flavors, artificial colors, high fructose corn syrup, chemical preservatives, and, in the case of meats and dairy, hormones and antibiotics. Value-driven certifications like vegan, organic, gluten-free, and non-GMO also fall under the clean label umbrella.
Consumer demand for additive-free and clean foods has grown in recent years. A European study from Ingredion found that ever-increasing numbers of consumers are paying more attention to the ingredients list on foods. Of the polled consumers, 60% reported always or usually reading the ingredients list of products before buying and nearly 80% believe a short, simple ingredient list is important or very important. Equally important was consumers' ability to easily recognize ingredients on the list. For example, consumers find unbleached or heat-treated flour, glucose, starch, and natural flavors and colors to be acceptable ingredients. But they're turned off by ingredients like bleached flours, Xanthan gum, genetically-modified ingredients, modified starch, and artificial or synthetic flavors and colors.
Is clean labeling right for your product?
As the clean eating and clean label trend continues to grow, food producers are taking notice. Clean labels are gaining more and more shelf space across North America as qualified food and beverage producers add the designation to their package design. So how do you know if clean labeling is right for your product?
While there is no existing standard definition of what constitutes a clean label, there are some best practices that can guide food producers. The International Food Ingredients Clean Label guide defines these standards:
Minimally processed — Foods that have little to no processing, or use traditional processing techniques that are clear and understandable for consumers.
Simple ingredients — Ingredient lists that are short and simple, containing ingredients that consumers recognize and feel comfortable with.
Additive-free — Foods have no additives or very few additives, and those present are from natural sources that are recognizable to consumers.
As the clean eating movement continues, consumers are increasingly looking for food products that are natural and not perceived as artificial. Food manufacturers are joining the clean label trend in droves as more and more health-conscious consumers seek out these products. If your product meets the criteria for clean labeling, now could be a good time to incorporate this popular designation into your product's packaging.
[cta]It's time to take control of your packaging process. Get in touch with CTI today. Contact us online, by email, or by phone at 847-968-4855.[/cta]