Expand Your Sales Opportunities with Retail-Ready Packaging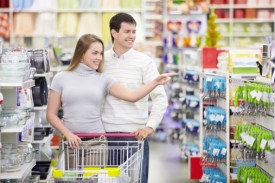 When you think about product packaging, the first images that come to mind may be bottles, boxes, clamshells, or other types of primary packaging that make direct contact with the product. However, another type of packaging can have a significant impact on your product's success in stores: retail-ready packaging.
What is retail-ready packaging?
Retail-ready packaging is a type of secondary packaging that organizes your product into a convenient display for the shelf or retail floor. Retail-ready packaging includes point-of-purchase (POP) displays, counter displays, club-store packaging, and kits.
Demand for retail-ready packaging is on the rise. PMMI (The Association for Packaging and Processing Technologies) found in its 2014 Secondary Packaging Market Research Study that a growing use for secondary packaging is in retail-ready packaging, which enables a product to go straight from the pallet to the retail floor.
Retail-ready benefits
Retail-ready packaging provides benefits for retailers, producers, and consumers, which can drive product sales. For retailers, counter displays and POP displays can reduce shelf-stocking time and keep products better organized on shelves; reducing time spent replacing stray merchandise. Consumers also find products offered in POP displays and counter or shelf displays easier to locate and access. Products offered in retail-ready packaging, such as kits, let consumers save money by purchasing multiple items in a single, discounted package.
Producers also benefit from retail-ready packaging. Club-store packaging allows producers to provide products in the format required by club-store retailers. Retail-ready package methods like kitting can help producers increase buyer spend and, in many cases, decrease shipping costs. POP displays can help producers ensure their products stand out from the competition.
Retail-ready packaging services are a key part of the Just Pack It service offering from Combined Technologies, Inc. (CTI). Just Pack It offers a range of custom options to meet all your secondary packaging and fulfillment needs — from POP displays to multi-packs and kits to club-store packaging. And CTI's commitment to quality and sustainability mean you can be sure your packaging project is part of the solution to a better and more sustainable tomorrow.
[cta]Package your product the right way. Contact your CTI representative today to find out how we can create a custom fulfillment program for your product. Reach us online, by email, or by phone at 847-968-4855.[/cta]