It's Time for More Sustainable Flexible Packaging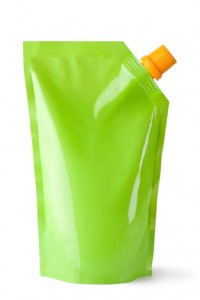 Flexible packaging has many great advantages. It's lighter, uses less materials to produce, costs less to ship, extends shelf life, reduces food waste, and takes up less space in landfills. However, flexible packaging has one major disadvantage: It isn't recyclable.
Flexible's recyclability problem
Flexible packaging's recyclability problem is not news to the key players in the consumer product goods (CPG), packaging, and recycling industries. As flexible packaging grows in popularity, so too grows the problem of what to do with it, post-use.
Though some parts of flexible packaging are recyclable, such as polyethylene (PE) film, actually collecting and recycling these materials is too costly and too complex to implement on a large scale. Recycling multi-layer flexible packaging requires more steps and processes than traditional recycling. Flexible packaging often includes layers of different types of materials such as aluminum foil within a PE laminate, each requiring a different recycling process.
Sustainability solutions
A number of packaging industry players are leading the charge to develop new ways to address the lack of sustainability in flexible packaging. Key initiatives include:
UPSTREAM's cradle-to-cradle cycling — UPSTREAM has called upon CPG and packaging manufacturers to design all products and packaging for perpetual reuse, either through recycling into new materials, biodegradation, or composting.
The Flexible Packaging Association (FPA) has partnered with the Sustainable Plastics Coalition (SPC) and other industry groups to raise awareness about plastic film recycling.
Dow Chemical Company has developed a fully recyclable stand-up PE pouch. Ampac has also developed a recyclable stand-up pouch.
CPG manufacturers Colgate-Palmolive and Keurig Green Mountain Coffee have set goals to make their packaging fully recyclable by the year 2020.
Colgate has committed to developing a recyclable toothpaste container. The organization As You Sow has approached other large CPGs to follow Colgate's lead with similar recyclable packaging proposals.
As reported by UPSTREAM, the American Chemistry Council is working with the SPC on a on a "Recyclable: Return to Store" label for PE packaging and piloting in-store PE film take-back programs.
The emerging plastics-to-oil (PTO) recycling industry is working to increase awareness that this recycling technology exists and cen be leveraged as a viable technology option.
These initiatives point toward a future where flexible packaging is sustainable and as widely recycled as glass, aluminum, and paper. Sustainability is important to your customers — and it's important to us. Combined Technologies, Inc. (CTI) is a member of the SPC, and we're actively engaged in initiatives to provide our customers with the most sustainable options available for whatever type of packaging they require. At CTI, we work closely with our customers to help pave the way to a more sustainable future.
[cta]It's painless: Our package analysis is no-cost, no-obligation. Get the information and options you need to make a positive change for your product. Contact the experts at CTI online, by email, or by phone at 847-968-4855.[/cta]