5 Labeling Trends to Watch in 2015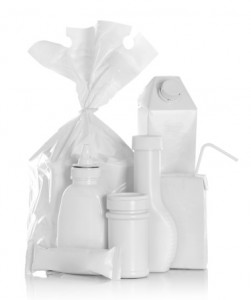 December is upon us — traditionally a time when we indulge in a bit of soothsaying about the coming year. Throughout 2014, CTI's Smart Packaging has featured articles on a number of packaging industry trends, such as green marketing, packaging for millennials, robotics, and sustainable packaging. In this final issue of 2014, we turn our attention to packaging labels, and share which product labeling trends to watch in 2015.
Trend #1: Clear labeling
Clear labeling practices aim to provide easy-to-understand details about a packaged product and its ingredients. Clear labeling is particularly important for the food and beverage industry, where consumers are looking for transparent details, straightforward product claims, and short, recognizable ingredient lists.
Trend #2: Eco-labeling
Eco-labels include information about the environmental impact generated in the creation of the product, or even instructions to minimize the environmental impact when the consumer is ready to discard it. An eco-label might also include information about the product's sustainability and sourcing or feature reuse and recycling suggestions for consumers. For example, a seafood package eco-label might include details about the item's origins  to help consumers who value responsibly sourced seafood. Experts believe the eco-labeling trend will continue to evolve according to consumer demand.
Trend #3: Digital printing
Use of digital printing technologies will continue to expand in label and package printing in 2015, according to a recent research study by the Graphic Communications Institute at California Polytechnic State University (GrCI) and Packaging World magazine. In particular, packaging manufacturers are investigating digital printing's capabilities to allow them to lower print costs, perform smaller print runs, shorten lead time, and enable them to provide on-demand print services.
Trend #4: Heat-shrink and stretch labels
As packaging providers look for ways to produce lighter-weight and more flexible package options, they are also exploring alternatives to traditional pressure-sensitive labels that are more effective for these package types. Stretch and heat-shrink labels can conform to a variety of unique package shapes and sizes. Industry research firm The Freedonia Group predicts in a recent study that among pressure-sensitive labeling alternatives, the use of heat-shrink labels will grow most quickly in 2015.
Trend #5: Labels with personality
Companies are increasingly selecting labeling that incorporates personal touches like handwritten logos and font styles, as well as doodles and hand-drawn graphics that give the consumer a more personal experience with the product and brand.
Are any of these labeling trends a good fit for your product or packaging? Working with a packaging partner that provides a wide variety of options like Combined Technologies, Inc. (CTI) can help you answer that question and many more to ensure your packaging and label choices reinforce your brand and engage consumers.
[cta]It's time to take control of your packaging process. Get in touch with CTI today. Contact us online, by email, or by phone at 847-968-4855.[/cta]