Reduce Your Recall Risks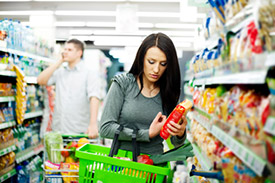 Packaging is a critical component of product safety. When the safety of a product or its packaging is compromised, often a recall is the next step. Just as a responsible business must do everything possible to ensure its products' safety, you must also make sure product packaging is safe, too.
Common package-related recall risks
A recall is a government-ordered removal of a product from the market because of safety issues or a defect that negatively affects the product's quality. The U.S. Food and Drug Administration (FDA) can order a recall of any food, cosmetic, dietary supplement, or pharmaceutical product sold in the U.S.
The following packaging-related issues can lead to FDA recalls. By avoiding these common problems, you can reduce your product's risk of recall.
Mislabeled packages. A variety of mislabeling issues can trigger an FDA recall. Some of the most common include mismatched front and back labels, incorrect dosing information, inaccurate dietary requirements, incorrect food-handling instructions, or missing allergen information.
Chemical reactions. Packaging that causes a chemical reaction with the product inside could pose a significant risk to consumers and result in an FDA recall.
Contamination. Contamination of the product caused by unsanitary packaging equipment not only warrants an FDA recall, but also increases risk of illness or injury for consumers.
Broken glass. Package manufacturers that offer glass packaging options must take care to ensure broken glass doesn't end up in the product during the packaging process. Broken glass in a product can cause serious injury for consumers and trigger not only an FDA recall but also a plethora of lawsuits.
Mixed pallets, cases, or cartons. The FDA could order a recall if a pallet contains a case carrying different product than the others containers, if a case contains more than one item type, or if a carton contains the wrong packages — or even products in the wrong packages.
Minimizing recall risks
Mistakes can happen in even the most tightly organized and compliant package manufacturing process. The key to reducing risk of an FDA recall is to partner with a packaging provider focused on quality and safety, as Combined Technologies, Inc. (CTI) is. You'll want to choose a packaging vendor that has a good quality assurance process, quality certifications, and a proven track record for safety — all of which reduce risk of an FDA recall.
In an FDA recall, should one occur, the key to minimizing the impact starts with having a thorough recall plan in place. An effective recall plan should include communication protocols, recall procedures, traceability measures, retention of critical product documentation, and the outlining of a designated recall team. Make sure product labels are designed carefully to fully comply with all applicable laws and regulations, and include thorough data on the labels to facilitate product return, should a recall be ordered.
Avoiding costly FDA product recalls is a concern both for product manufacturers and packaging providers. You can reduce package-related recall risks by being aware of the common causes of such recalls and taking action to avoid them. Partnering with the right packaging provider — one that puts quality and safety first — is your best defense against facing a product recall caused by packaging problems.
[cta]At CTI, our focus is on producing high-quality, safe, and effective packaging for your product. Contact us online, by email, or by phone at 847-968-4855.[/cta]