Packaging Made These Cookies a Hit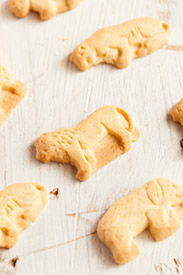 Animal crackers have been a childhood staple for generations. Animal-shaped cookies were originally a European treat, but it wasn't until 1902 that they became an American icon.
That's when the National Biscuit Company (which later became Nabisco) dubbed its animal biscuits "Barnum's Animals." For the 1902 holiday season, the company redesigned the cookies' package as a circus wagon and attached string to it, so the box could be hung on a Christmas tree as an ornament.
FoodReference.com cites these impressive statistics about Nabisco's Barnum's Animals animal crackers:
More than 40 million packages of animal crackers are sold each year, and are exported to 17 countries.
Each box contains 22 crackers.
Seventeen animal species are represented: tigers, cougars, camels, rhinoceros, kangaroos, hippopotamuses, bison, lions, hyenas, zebras, elephants, sheep, bears, gorillas, monkeys, seals, and giraffes.
Every minute, 12,000 Barnum's Animals are produced, and about 6,000 miles of string are used on the packages.
Although many companies now produce animal-shaped cookies, the one most people think of first is Barnum's Animals — and all because of its distinctive packaging!