The Robots Are Coming — to Packaging Applications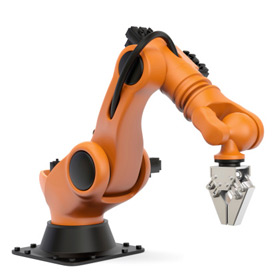 The word "robot" often evokes thoughts of science fiction or cartoon robots (think Isaac Asimov's "I, Robot" short stories and the movie they inspired or Rosie from "The Jetsons"). But today, robots are being put to more practical business uses in many industries — including packaging.
Contract packaging companies are increasingly integrating robots into their packaging lines. According to a recent market research study, "Trends in Robotics 2014," conducted by The Association for Packaging and Processing Technologies (PMMI), 75% of end users now use robotics in their manufacturing lines, compared to just 20% in 2008. What is driving the rapid adoption of robotics technology in packaging? Simply put, robots can improve accuracy, increase productivity, and lower production costs for both packaging providers and their customers.
Robots: pros and cons
Integration of robots into packaging operations provides these key benefits:
increased efficiency;
continuous, 24/7 operation;
accuracy; and
consistency in completing repetitive tasks correctly.
Robots can also improve a packaging line's ergonomics by processing packages at high speeds and by doing heavy lifting that could injure or exhaust human operators.
Robots can be used in a variety of ways in a packaging line. The most common current uses for robotic technology in the packaging industry are pick-and-place, palletizing/depalletizing and case packing, automation of machine loading processes, and food packaging.
Integrating robotics into a packaging line is not without disadvantages. Although these industrial robots will not go AWOL and seek world domination, they can still pose serious risks for the humans working alongside them. To minimize the potential of injury, packaging lines with robot technology need to implement appropriate guarding, safety barriers, and protective programming — for example, using safety laser scanners and sensors that can slow or stop robotic processes should an incident occur that would endanger a human operator.
Robots and the future
According the PMMI report, the robots of today have many more capabilities than the robots of just a few years ago. Today's robots are equipped with enhanced 3D vision technology and use more advanced cameras and sensors to handle and process objects. They have greater handling precision, can lift heavier objects, and can work at faster speeds. Modern robots are also designed better for sanitation processes required for food product packaging. And today's robots offer sophisticated controllers that integrate more easily with production lines' programmable logic controllers (PLCs) and other hardware and software.
Packaging industry experts anticipate that use of robots in packaging and manufacturing lines will only increase as robotics technology evolves to offer more options and innovations. The rate of this increase will be driven by functionality, design, and cost-effectiveness — all factors that determine how well robots will meet the needs of manufacturers in the future.
[cta]It's time to take control of your packaging process. Get in touch with CTI today. Contact us online, by email, or by phone at 847-968-4855.[/cta]