Give Your Customers Sustainable Packaging with Bioplastics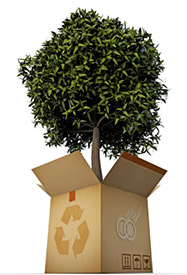 Consumers' demand for sustainable packaging — along with increasing costs of petroleum-based plastics — are spurring the use of green packaging materials and bioplastics. In fact, the packaging industry now accounts for 60% of all bioplastics production worldwide. As bioplastics become a more popular packaging choice, it's important to understand what these materials are and how can they benefit your customers and your brand.
Bioplastics basics
The Society of the Plastic Industry defines bioplastic as plastic that is biodegradable, contains bio-based content, or both. Biodegradable plastics break down in landfills or composts through natural processes, often involving microorganisms that convert the material back into natural compounds. Bio-based bioplastics are created using plant-derived sources such as wood fibers or corn and do not use petroleum-based raw materials such as fossil fuels, oil, natural gas, or their derivatives.
Bioplastics benefit your brand
Using bioplastics in your packaging can provide a marketing edge for your brand, attracting more eco-conscious consumers who place a high value on sustainable packaging when making purchase decisions. A 2013 survey by Tetra Pak says respondents found the use of bio-based materials in beverage packaging to be a key environmental trend, and more than half of respondents stated that bio-based plastics improve a carton's environmental performance.
Consumers are more aware than ever of the impact product packaging has on the environment. Consider the success of Coca-Cola's PlantBottle and Tom's of Maine's research into potato starch packaging. Both offer examples of how using bioplastics appeals to consumers and enhances a brand's profile. Earth-friendly packaging differentiates your product and conveys your company's commitment to sustainability.
Are bioplastics the right choice?
For all bioplastics' benefits, there are elements to consider when deciding whether that material is appropriate for your product packaging. First and foremost, your choice of a bioplastic packaging material should not compromise your product's quality or safety.
The American Institute for Packaging and the Environment (AMERIPEN) suggests a useful way to assess how well-suited a sustainable packaging material is for your product. AMERIPEN advises manufacturers and packaging companies to aim for an optimal package: attractive, efficient packaging that preserves the product's quality and safety and delivers maximum value and use to the consumer — with minimal negative environmental impact.
Bioplastics offer manufacturers a variety of options for packaging materials, enabling them to provide packaging that blends sustainability, product protection, and customer appeal. Your packaging vendor can help you to determine appropriate packaging options for your product and how to use bioplastics to enhance your brand.
[cta]It's time to take control of your packaging process. Get in touch with CTI today. Contact us online, by email, or by phone at 847-968-4855.[/cta]