Corrugated Packaging: Versatile and Sustainable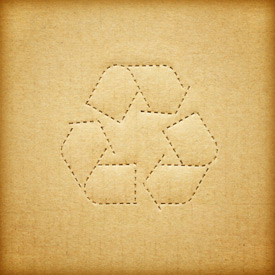 The demand for corrugated packaging is steadily growing. Packaging supply chain consultant Smithers Pira reports that demand for corrugated packaging material is expected to increase 4% per year over the next five years, to about $176 billion by 2019. What is driving such rapid growth in demand? In large part, it's corrugated packaging's versatility and sustainability.
Versatility
Corrugated packaging is made of a material that consists of three layers of paper: a layer of fluting sandwiched between an inside and an outside liner. It's a versatile packaging medium that offers a variety of options for thickness, size, colors, fluting types, and styles. Corrugated packaging presents a plethora of custom options for cut, fold, printing, and other special treatments, such as flame retardants and static control coatings. The strength of corrugated material makes it ideal for online-shopping product delivery and also sturdy retail displays.
Sustainability
Corrugated packaging is sustainable. Corrugated materials are recyclable and usually biodegradable (depending on coatings), making them a very environmentally responsible packaging option.
Starting with corrugated material makes it easier to design recyclable packaging. A recent Finnish study published in the Journal of Cleaner Production found that corrugated boxes were more environmentally friendly than reusable high-density polyethylene (HDPE) plastic crates for transport.
Corrugated packaging has the added benefit of a wide availability of sustainable feedstocks. Sustainable feedstocks come from responsibly managed forest resources — for example, materials that are certified through the Forest Stewardship Council (FSC), or packaging that's made from fully recycled materials.
CTI's packaging services include a variety of corrugated packaging options — ranging from overpack boxes and point-of-purchase (POP) displays to corrugated packaging customized to meet your requirements. We'll create a sustainable packaging solution that includes designing the package, developing and manufacturing it, and fulfillment services.
[cta]Package your product the right way. Contact your CTI representative today to find out how we can create a custom fulfillment program for your product. Reach us online, by email, or by phone at 847-968-4855.[/cta]