5 Ways to Escape the Look-Alike Packaging Trap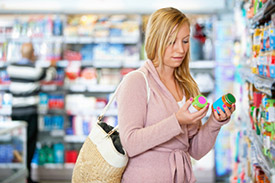 Too often, vendors can fall into the trap of using packaging design that is too similar to competing products in the same category. Product packaging that looks too much like the others on the shelf can make it more difficult for customers to make a buying decision. To escape this look-alike packaging trap, consider using these five helpful tips.
Tip #1: Differentiate!
Study your competitors' package designs to better understand their design choices, such as colors, shape, and size. Once you understand what your competitors are doing, you can differentiate your package design from theirs to help your product stand out on the shelf.
Tip #2: Show sustainability.
As discussed in the article "Give Your Customers Sustainable Packaging with Bioplastics" in this newsletter, customers are demanding sustainable and eco-friendly packaging. Use sustainable packaging materials and promote that feature on your label. Show buyers that you're giving them the sustainable, green packaging they want.
Tip #3: Have fun!
Use your package design to convey a sense of fun and whimsy. Adults like to have fun just as much as kids, so don't leave them out! Make your packaging more enjoyable by using a unique package shape, whimsical colors, or eye-catching graphics.
Tip #4: Be distinctly identifiable.
Create packaging that makes your product identifiable for consumers, yet distinctive enough to make buyers take notice. Ideally, the customer should be able to find your product with just a quick scan of a shelf or aisle.
Tip #5: Create trade dress.
If you want to form a truly strong connection between your customers and your packaging and brand, create packaging that serves as a trademark. This is called trade dress: the unique visual characteristics of a product or its packaging that identify the product. Utilize trade dress by creating packaging with a strongly recognizable visual appearance, shape, or other design elements so that customers can instantly identify your brand and associate it with quality. A great example of a brand with strong trade dress is Coca-Cola. The distinctive red package with the white waves and logo is unmistakable. Just be prepared to defend your trade dress in court if one of your competitors imitates it too closely.
At Combined Technologies, Inc. (CTI), we know that every product is unique, so a product's packaging should be, too. We work with you to design packaging that's best suited for your product and gives it a look and feel that emphasizes its distinctive qualities and gets buyers to pay attention.
[cta]It's painless: Our package analysis is no-cost, no-obligation. Get the information and options you need to make a positive change for your product. Contact the experts at CTI online, by email, or by phone at 847-968-4855.[/cta]