Get It Right — With Prototyping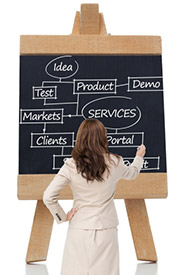 Why should you create a prototype of your package design? After all, you can visualize it very clearly in your mind! There are many answers to that question, but perhaps the best answer lies in understanding what prototyping can do for you in the package development process.
Prototyping is a crucial part of the packaging development process, in which a package's design is rendered in either physical form, using 3D graphics, or via 3D printing. There are two key elements to consider in prototyping:
Visual prototyping — what the packaging will look like
Functional prototyping — how the package will work
What prototyping does for you
Prototyping is often a collaborative process where you, your packaging provider, designers, and marketing experts come together with the shared goal of making your product stand out and fly off the shelves.
Prototyping lets you try out many "what-if" packaging scenarios. You have the chance to experiment with different visual elements and a variety of functional options, packaging features, and designs to find the best combination of these elements to represent your product and brand.
Prototyping also allows you to collect consumer feedback on early versions of your package design. You can use the feedback you receive to refine your package design so that it best meets your customers' needs. Evaluating different package prototypes also helps you to perfect your packaging ideas to create a result that can be produced, labeled, and filled as efficiently as possible.
The collaboration, experimentation, and feedback provided by the prototyping process improve the overall quality of the final result and help you get it right the first time.
Prototyping with Combined Technologies
Prototyping is a key part of Combined Technologies' three-phase package development process: It's included in phase three of the process after research and analysis, strategy, and design work. CTI's focus on collaboration throughout the package development process and prototyping phase delivers our customers consistent, high-quality packaging results.
[cta]Package your product the right way. Contact your CTI representative today to find out how we can create a custom fulfillment program for your product. Reach us online, by email, or by phone at 847-968-4855.[/cta]