How Can We Make Our Packaging Greener?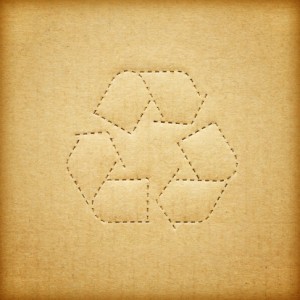 A: Companies are innovating new ways to make packaging less wasteful, educate consumers about recycling options, make recycling easier for consumers, and focus on Zero Waste efforts. Here are just a few practices companies are using to make their packaging more eco-friendly.
Educate consumers
Environmentally-conscious companies are using labeling and product packaging to educate consumers about recycling and the recyclability of the product's packaging:
More than 20 companies so far, including McDonald's, are using GreenBlue's Sustainable Packaging Coalition (SPC) How2Recycle label on their packaging.
Companies of all types are providing clearer instructions for consumers on what can and cannot be recycled or composted, including using food labels to inform consumers about food waste that can be composted.
Increase recyclability of packaging
Another key way to make your packaging greener is using materials and processes that not only make the best use of recycled materials during manufacturing, but also increase the recyclability of packaging on the consumer end.
Use recycled materials for your packaging. Recycled materials are often more cost-efficient than manufacturing "virgin" materials for packaging.
Use recycling strategies during production processes to divert package manufacturing waste from landfills.
Make all product packaging 100% recyclable. Colgate-Palmolive, for example, has committed to making the packaging of three of its four product categories completely recyclable by the year 2020.
Strive for Zero Waste
Striving for Zero Waste in your manufacturing and packaging may seem like an unattainable goal. Zero Waste will not be achieved overnight, but as more industry-leading corporations make real efforts at implementing sustainable practices, it paves the way for innovations that can take Zero Waste from concept to reality.
A great first step for a Zero Waste future is choosing a packaging vendor that is committed to sustainable practices and can produce packaging in line with the guidelines defined by the Sustainable Packaging Coalition.
[cta]Are you looking for ways to reduce waste in your package design and creation and enable easier recycling for your customers? Talk to CTI. We can help you design the most cost-effective, eco-friendly package for your needs. Contact us online, by email, or by phone at 847-968-4855.[/cta]