How Many Sides on a Heinz Ketchup Bottle?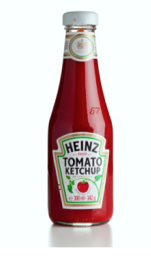 Answer: 8
The octagonal bottle design was actually patented by Henry J. Heinz in 1890. The narrow neck of the bottle restricted the amount of air that came into contact with the product so it stayed fresh longer. The eight flat sides were designed to promote better flow of the ketchup from the bottle.
Although Heinz and other ketchup makers have used many different package styles throughout the years, consumers identify this distinctive shape with ketchup.