Need to Pick a Practical Package? Consider Pouches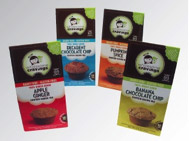 Some things are best when they're simple: Directions to a destination. Home cooking. Rules for your favorite board game.
That's why many product makers choose pouches over other package forms. The humble pouch offers multiple benefits:
Integrated design — Pouches don't require separate labeling because product and nutrition information can be printed on the package itself.
Easy handling — The flexibility of pouches allow for easy handling, and the light weight is a popular alternative to heavier plastic tubs.
Dependable — Pouches provide airtight seals that are suitable for both liquid and dry products.
Flexible — Pouch design can take virtually any shape and can include sizes from small sachets to larger bags that hold up to 10 pounds.
Consumer friendly — Construction of pouches allows for features that appeal to end users, such as gussets that allow the pouch to stand up, easy-tear opening, and zippers for resealing to keep products fresh.
Versatile — Pouches can be made of a variety of materials to satisfy any need, from ensuring safety for cleaning products to providing hygienic packaging for food products.
CTI can recommend the design and features that will make your package fun and functional. What could be simpler? How about having your package made and filled in the same place?
We also provide complete fill services and can ship directly to your retailers. And we can provide the turnkey packaging services you need while ensuring compliance with a variety of regulations and quality assurance standards, including
Department of Health and Human Services/Food and Drug Administration — food facility (FDA),
American Institute of Baking (AIB),
Organic Certification ON&IC,
Rabbinical Councils — Chicago Chapter — Kosher Certified, and
CGMP Certification.
We will also soon offer Certified Gluten Free and Certified Organic and Kosher Ⓤ packaging.
So keep it simple! Your customers — and your bottom line — will benefit.
[cta]Package your product the right way. Contact your CTI representative today to find out how we can create a custom fulfillment program for your product. Reach us online, by email, or by phone at 847-968-4855.[/cta]