Food Label Facelift: How to Be Ready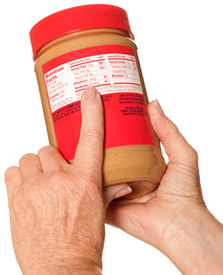 Food packaging offers the opportunity for infinite variety in design. But regardless of any design choices, what's the one thing you know your food product package will have? That's right: a nutrition label! But get ready for a change, because the iconic rectangular box on food packaging is getting a facelift. The new requirements are aimed at helping consumers make more informed food choices and follow healthy dietary practices.
The Nutrition Facts label, required by the Food and Drug Administration since 1993, will be updated with a new design and new content to reflect changes in the American diet and address an increase in the rates of obesity, heart disease, and stroke. The label has not been updated since 2006, when trans-fat numbers were included, ultimately prompting manufacturers to reduce partially hydrogenated oils.
The new proposed changes will affect all packaged foods, excluding certain meat, poultry, and processed egg products that are regulated by the U.S. Department of Agriculture's Food Safety and Inspection Service. The FDA is currently taking public comment on the changes, and manufacturers will have two years to comply with the finalized regulations by updating package labeling.
Servings get real
Under the proposed changes, the new labels will emphasize certain aspects of nutrition information, such as calories, serving sizes, and Percent Daily Value, giving consumers access to better information about what they are eating and the tools to eat healthier if they so choose.
The changes address a few aspects of nutrition labeling that haven't been working. For instance, when was the last time you ate just one "serving" of a toaster pastry? Or a single serving of chips in a two-serving package? The calories listed per serving often don't reflect what Americans actually eat. With the changes, they will see the actual number of calories they are consuming. Dual column labels will indicate per serving and per package calorie and nutrition information.
We'll also get a new look at what's satisfying our sweet tooth. The FDA estimates that Americans get an average of 16% of their daily calories from sugars added during food production. The labeling changes will include a requirement to show the amount of added sugars versus total sugars so that consumers can see how much sugar has been added to the product.
What will we see?
The label will still look like a nutrition label, but there will be some obvious changes. Specifically, the proposed new label will include:
Calories in the largest, boldest font, instead of buried in fine print.
Saturated and trans fat, but not the amount of calories from fat. This change is based on current thinking that the type of fat is more important than the total amount.
The inclusion of added sugars, Vitamin D, and potassium. Vitamin D, good for bone health, and potassium, beneficial in lowering blood pressure, are nutrients that some consumers do not get enough of, putting them at risk for chronic disease.
Updates to the Percent Daily Value for various nutrients, such as sodium and dietary fiber, in the context of a total diet. That information will also be shifted to the left of the label.
Where do we go from here?
The proposed changes will present several challenges for manufacturers and food companies:
Retesting products, particularly foods with low nutritional values, to find ways to make them healthier.
Revising labels to include the new nutritional information.
Redesigning packaging to meet the FDA's requirements.
The FDA estimates it will cost the food industry about $2 billion to update the nutrition labels that appear on 700,000 consumer products. Larger businesses likely will not be as affected, because they frequently change their packaging for marketing purposes.  Small businesses selling 100,000 units or less a year will be able to seek an exemption.
Combined Technologies Inc. can help food companies deal with the proposed changes. Consult with us about the design, labeling, and package creation to meet the new requirements and to help you through the process for making this transition.
[cta]It's time to take control of your packaging process. Get in touch with CTI today online, by email, or by phone at 847-968-4855.[/cta]