Stop Making Product Packaging a Multi-Vendor Project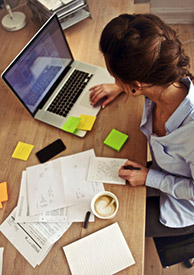 You've invested your time and money in developing a great product. Now, how much time are you spending on the production of its packaging?
First, you need a design — you want your product to look great and sell. But you also need a designer that can deal with regulations that govern everything from seals to printed messaging. You need to find a packing producer that can meet your specifications and fit your time frame. Then you need a logistics company to ship the packaging to your manufacturing facility. And you need a provider to fill and kit for your retailers.
Too many vendors! What should have been a short project to put the final polish on your product has turned into a management nightmare that's expensive, complex, and often causes costly delays.
What if you could find just one vendor that provides a one-stop packaging solution that is shelf-ready? We have good news for you.
Get retail ready in one step
Retailers know that the right packaging is essential to protect products from damage and theft while also giving them a pleasing look on the shelf and meeting retailer requirements. Because packaging can be complex, packaging providers are competing for different parts of your packaging business. By 2017, this market is expected to grow from $169.1 billion to $186 billion, according to market research firm Smithers Pira in its report "The Future of Packaging in North America to 2017."
Combined Technologies Inc. is on the cutting edge of this market, helping you cut down on your operational costs by providing retail-ready packaging (RRP) that is simple, efficient, and effective. By using a single vendor to complete all aspects of your RRP project, you streamline your process. With just one connection from initial design to delivery, you get packaging delivered to your retailers in self-contained units that don't need assembling or unpacking before displaying — faster, and with better results.
CTI offers the end-to-end solution you want:
From design to sale: It's not just about choosing a box any more. When packaging products, manufacturers have to consider numerous factors: package design, the materials used, environmental considerations, and the product appeal. They look at the development, the package manufacturing and fulfillment, the finishing process, and the quality — all aimed at selling the product.
One service for everything: Instead of spending time and energy managing packaging as a separate project, manufacturers can use a partner that provides everything they need from initial design to sale.
North American manufacturers are learning the benefits of RRP and are increasingly looking for RRP solutions that solve design, production, and logistical problems efficiently. According to a survey conducted by Packaging World, 57% of suppliers say RRP requests have increased in the last 12 months.
At CTI, we're here to provide the resources you need to make packaging your product seamless and successful. That's why we're launching this monthly newsletter. Each month, you'll get
insights about trends in consumer product production,
ideas for improving your product presentation and protection,
practical tips and ideas for optimizing your packaging process,
answers to common questions, and
stories about solutions and successes.
This newsletter offers access to the rich resources on our website, but it's also a forum for talking to CTI. Let us know your questions, your concerns, your latest challenges. We want your feedback, and we look forward to offering you a partnership that will bring lasting value to your organization.
[cta]It's time to take control of your packaging process. Get in touch with CTI today. Contact us online, by email, or by phone at 847-968-4855.[/cta]