How Can I Make My Product Harder to Steal?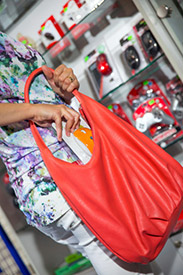 A:
Retailers are worried about retail shrinkage. When significant profits walk out the door, retailers look to product manufacturers to help them prevent employee, shopper, and organized theft.
Retail shrinkage has been a growing source of concern as thieves grow progressively more sophisticated. According to the National Retail Federation's Organized Retail Crime survey, 93.5% of retailers have been victims of organized thefts, and 8 of 10 survey respondents agree that organized theft is increasing.
Combined Technologies Inc. can help you deter theft and prevent thieves from removing the packaging in the store or retail outlet by using various types of packaging and security devices.
CTI's solutions range from the popular clamshell packaging to updated thermoform plastic designs, our unique Rip It packaging, and electronic devices, such as hard tags or heavy-duty stickers placed inside the packaging.
Choose your weapon in the war against theft
For an initial level of protection that provides excellent product presentation for customers, your first choice might be plastic clamshell packaging and other thermoform-plastic options.
Balancing protection with consumer appeal can also be a challenge. CTI has developed an alternative to traditional clamshell packaging, "Rip It" packaging. It uses Blisterguard card stock, which reduces the amount of plastic in the package while still providing strong protection against package removal in the store.
In addition to these physical protections, many retailers have implemented electronic security systems. To comply with the requirements of these retailers, product manufacturers must install small electronic sensors (typically from CheckPoint or Sensormatic). CTI can help you determine which device is best for you and your retailer, whether you might need to include both types of sensors, and the best way to place the sensors in your package to enhance security.
To meet your secure packaging and tagging needs, consult with CTI. We'll give recommendations for creating an effective solution while maintaining the appeal of your product. We can provide the solution you need — from design to fulfillment.
[cta]Have your retailers increased their security requirements? Talk to CTI. We can help you design the most cost-effective theft-deterrent package for your needs. Contact us online, by email, or by phone at 847-968-4855.[/cta]